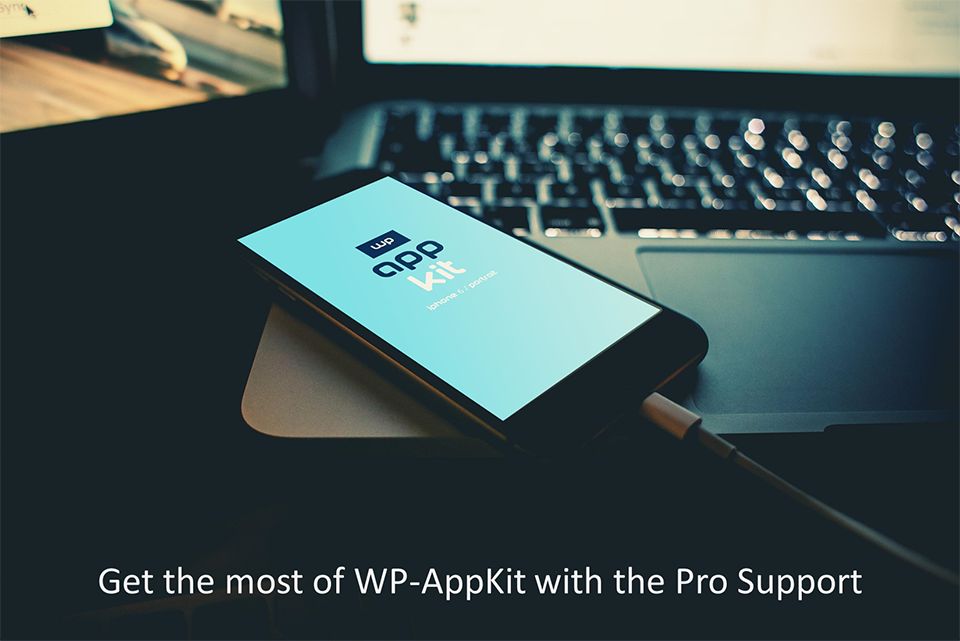 Get 1 year of pro support and build awesome mobile apps!
Plain and simple: pro support is an exclusive email service where you can submit your questions and problems using and developing with WP-AppKit.
It encompasses:
2 mobile apps per domain (see below)
WP-AppKit installation troubleshooting
Component configuration
Project configuration and export
Web service customization
Theme's API
As a paid member, your questions will be answered as rapidly as possible by experienced WordPress and mobile developers.
Let's answer to some common questions
2 mobile apps per domain?
You can install WP-AppKit on an unlimited number of servers but we'll offer support only for 2 mobile apps per domain. When you purchase support, we ask you for which domain (eg. mycooldomain.com) it applies. By that we mean the domain attached to the WordPress installation where WP-AppKit lives and apps can be previewed.
Will iOS and Android versions of the same app count as 2 apps?
Yes. Even if WP-AppKit uses web technologies, iOS and Android can be really different (eg. Cordova plugins used or user interface animations). So we count them as 2 separate mobile apps.
Support Availability
Support is available Monday to Friday from 9 to 5. We're based in France (http://www.timeanddate.com/worldclock/france/paris).
Javascript/CSS Frameworks Support
We don't offer in-depth [put here the name of your favorite JavaScript/CSS framework] support. The premium support is really about WP-AppKit and its API. However we often give insights on what we use for our own themes. Check our FAQ to learn about WP-AppKit compatibility with JavaScript/CSS frameworks.
App Store Submission
We don't offer app store submission support. However, we will ensure that the project export allows you to properly compile your app for production.
Cordova/PhoneGap Plugins
We provide support on how to use Cordova/PhoneGap core plugins with WP-AppKit. We also offer support regarding the integration of the plugins we recommend.
PhoneGap Build
We provide support on how to use PhoneGap Build to build your apps. However we can't support the service in itself (eg. resolve service outages). We'll do our best to assist you in your exchanges with the PhoneGap Build support.
WordPress Plugins
Of course, we can't offer support for all the WordPress plugins out there 🙂 It is even more true for premium plugins. However we've developed WP-AppKit the WordPress way to be able to support as much plugins as we can. We'll eventually troubleshoot with you any plugin hell you may encounter.
Admin Access
We don't require you to give us access to your WordPress admin. However, you have to know that it often speeds the resolution process.
Refund policy
Yes. Sometimes, things just don't work. As soon as we can't solve a specific problem directly related to WP-AppKit you can get a full refund within 15 days of your purchase.
Renew Full Year Support
If you renew your full year support package within 30 days after it has expired, you'll receive a 30% discount, meaning that the renewal will cost you 279€. After 30 days, renewals are at full price. Coupon codes or other promotional discounts do not apply to renewals.