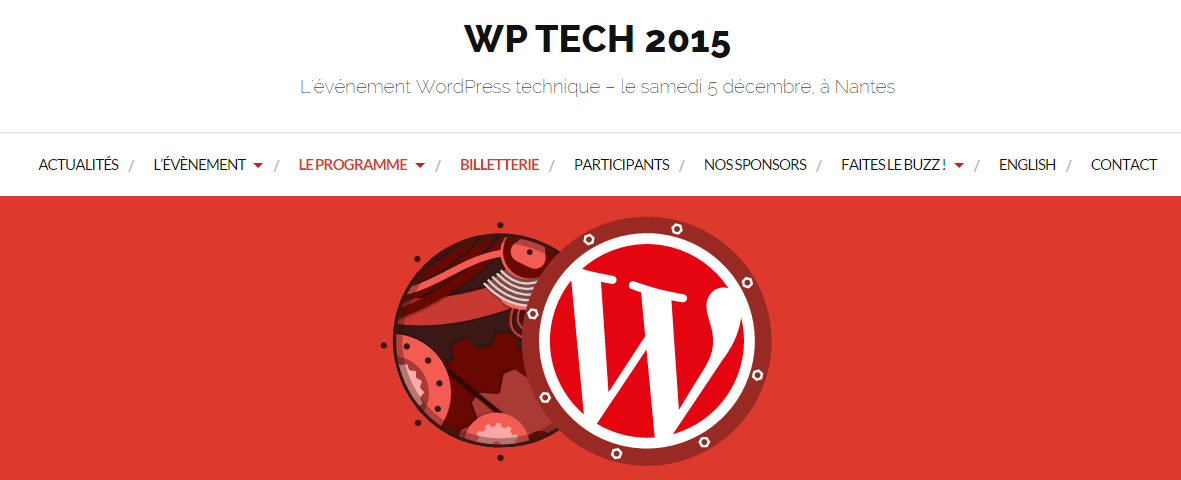 This weekend (12/05/2015), Mathieu and I, we've attended the WPTech event. WPTech is a French WordPress event dedicated to technical topics and held in Nantes, a city in the western part of France.
240 people have attended 10 talks on various technical topics. There was a wide range of talks, from technical SEO to how to create proper hooks. But we all agree that it is the REST API & Javascript year for the WordPress world. So we had a great talk from Maxime Bernard-Jacquet on the REST API. As WP-AppKit uses a REST API and Javascript for 2 years now, I must say that it is great to be mainstream 🙂
As usual, it has been also a great opportunity to meet people, learn and share.
Bye bye Nantes 😀 #wptech pic.twitter.com/J2TDJcwoGz

— Benjamin Lupu (@benjaminlupu) December 6, 2015
For the second edition, the organizers have created a coding room where in-depth technical workshops were held. We've been lucky enough to present during 2 hours WP-AppKit and how to code an app theme. We'd like to thank all the workshop attendees. It has been a great moment to build with you this little app using the Star Wars API 🙂
Coding room du #wptech, présentation de #StarWars API…et un peu de #webappkit avec @benjaminlupu et @mat_lr pic.twitter.com/NQER7KEiUR

— Ludovic Riaudel Ⓦ (@lriaudel) December 5, 2015
@benjaminlupu Epique. Et tout ça pour afficher Chewbi dans notre appli 😉 pic.twitter.com/ArqZpVdZwm

— Mathieu Le Roi (@mat_lr) December 5, 2015
For those who have asked:
At last, kudos to the organizers! It has been a great event.
Happy coding!